Knowledge Engineer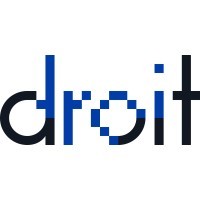 Droit
Other Engineering
New York, NY, USA
Posted on Friday, July 28, 2023
About Droit:
At Droit, we build mission-critical, breakthrough products to advance global regulatory compliance and real-time controls. We are pioneers in computational law and automating intelligent decision making. We see the complexity of rules and regulations as an opportunity. With our award-winning, patented platform, we help our clients systematically identify the right action and improve operational efficiencies in an ever-changing regulatory environment.
We value intellectually curious, creative people who enjoy solving challenging, interesting problems and building breakthrough products. Our culture and organizational model encourage accountability, collaboration and personal development.

About the role:
Knowledge engineers are responsible for the delivery of mission critical solutions for our clients and they participate in the development of new product lines. You can expect challenging and stimulating work that drives solutions for some of the world's leading financial institutions.

What you'll do in this role:
Build out critical new product lines, including solutions for the world's largest wealth management institutions.
Create and test operationalized knowledge models for our clients' complex, global business policies.
Collaborate with our Engineers to develop and improve tooling to automate knowledge modeling.
Program within, and participate in the design of, proprietary domain-specific languages.


What we are looking for:
Strong academic background in a technical field.
Impeccable attention to detail and a commitment to precision.
Practice experience with programming and working with Unix shells (bash, zsh, etc.) is desired.
A high degree of curiosity with the ability to ask thoughtful questions and solve challenging problems through abstraction and modeling.
A collaborative mind-set and commitment to knowledge sharing.


What we offer:
Competitive compensation, including retirement benefits, and equity in a scaling FinTech firm
Holistic benefits for you and your family to support your physical and mental health.

A commitment to growth through continuous feedback and experiences.
The opportunity to work in close-knit, global teams.
Flexibility for where you work and purpose for when we come together in person.
NYC Salary information:
We estimate that the base salary for this NYC-based role will be $85,000 - $115,000, plus equity, inclusion in Droit's discretionary bonus program, and benefits. Individual salaries are determined by factors such as experience, job-related skills, and relevant education.
A little more about Droit:
We believe in maintaining a diverse, innovative and inclusive workforce. Our people join us from a variety of backgrounds, and these diverse experiences help fuel our growth and ensure that our clients receive best-in-class products.
As we scale, we continue to commit to equal employment opportunity regardless of race, color, ancestry, national origin, religion, sex, sexual orientation, gender identity, age, marital status, disability or Veteran status or any other legally protected characteristics.
For more details on the company, please visit our website.